Wedding Albums
Now that you've received your photos from the big day, the next step is to put together a wedding album. This page walks you through the process.
Overview
The design process can be broken down into 5 easy steps:
Choose your favourite photos
Decide on the album size
Work with me to finalise the layout and number of pages
Upgrade, change or add features to your album
Sign off and wait for your album to arrive!
Step 1: Choose your favourite photos
Log in to your personalised wedding gallery using the details I will have sent to you. Once logged in, you can start to select the photos you'd like included in your album by clicking on the "heart" icon on each photo. After the first one, the system will prompt you to create a favourites list. Name this whatever you like ("Wedding Album" works well). I'll be able to see this list and know exactly which photos you have chosen, saving any confusion!
Step 2: Decide on the album size
The package you chose when booking Jonathan Lang Photography will dictate which album size is included (if you're unsure, it will be listed in your contract). You can either stick with that size, or upgrade it to a larger album if you'd like.
If you didn't have an album in your package and have decided you'd like one, that's ok too! You can choose the size you'd like. Albums can be landscape, portrait or square. Common sizes are listed below.
It's important to decide on the album size before the design process begins. You can order additional albums for your parents too if you'd like too. Specific costs can be found below. 
Step 3: Work with me to finalise the layout and number of pages
Once you have decided on your photos and album size, I will put together a draft layout. You'll be able to view and give feedback on the layout using a dedicated album proofing service. I will then make your suggested changes and upload a new version for you to view. This process continues until you are happy with the layout of the album.
If you want additional pages for your photos, you can upgrade the album 2 pages at a time (2 pages are called a spread).
Step 4: Upgrade, change or add features to your album
The two things that people usually change are the size of the album and the number of pages. There are however other changes that can be made, including the cover material, text on the cover, the type of print method and gilding on the edges of the pages. 
You can see more detail about your options below.
Step 5: Sign off and wait for your album to arrive!
If you have made any upgrades to the album, I will send through a final invoice for payment. If you decide not to upgrade anything and stick with the package included album that's fine too!
I'll do a final check my end and export the album ready to be printed. From here, it's just a matter of waiting until the album arrives!
Please be sure to let me know if your address has changed.
Album Prices and Common Upgrades
Here are the upgrades people commonly make to their albums. If you were thinking of something you can't see here, please let me know and I'll find out if it's possible!
* Prices and available materials/colours are subject to change. Please use this webpage as a guide.
Album Costs
| | |
| --- | --- |
| Album Size | Price |
| 8×11″ | $279 |
| 11×14″ | $399 |
| 12×16″ | $599 |
These costs are for packages that don't include an album, or if you wish to purchase an additional album as a parent album.
Album Size Upgrade
| | | |
| --- | --- | --- |
| Original Size | Upgraded Size | Price |
| 8×11″ | 11×14″ | $120 |
| 11×14″ | 12×16″ | $200 |
| 8×11″ | 12×16″ | $320 |
These are the prices if you're looking to upgrade an album that was included in your package. If you're looking to create a square album, please contact me for current pricing.
Additional Spreads (2 pages)
| | |
| --- | --- |
| Album Size | Spread Cost |
| 8×11″ | $20.50 |
| 11×14″ | $36.40 |
| 12×16″ | $52.45 |
This can be decided as part of the design process once you've had a chance to see how the photos look on the page.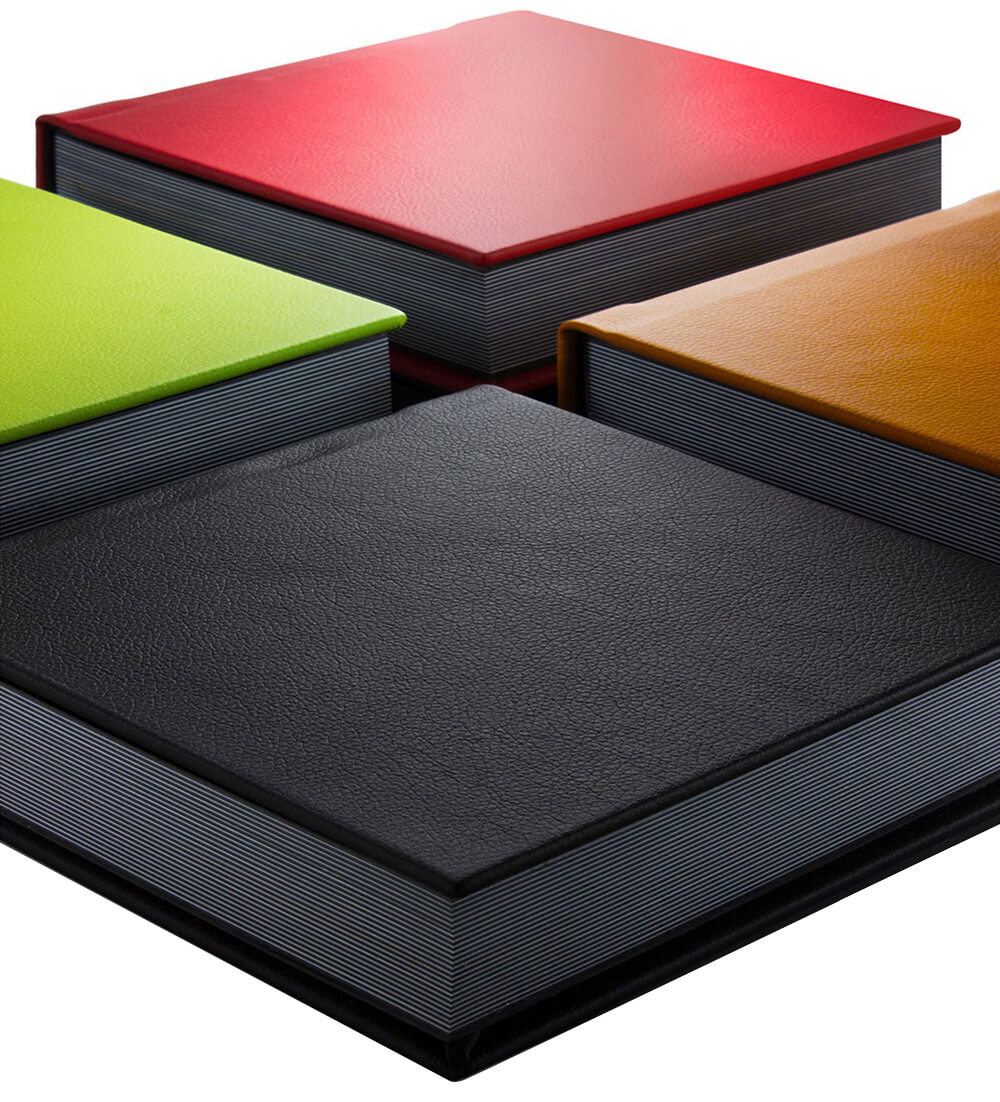 Cover Material
The cover can be changed to a variety of different materials and colours. You can choose from leatherette, real leather or linen. You can view all the colours below.
Gilded Pages
The pages of your album can be gilding in gold, silver or black. This upgrade costs $29.

Painted Cover Text
You can add text to the cover of your album. This would usually be your names and then the date on a second line. The painted text is a grey colour and works best on black album covers. Please let me know if you'd like the text to be small, medium or large. You can choose from this list of fonts for the text. This is a $29 upgrade.
Text shown in image: Font – Volkhov, size 40 (medium) on a 11×14″ album. Click here for a larger view.
Leatherette
There is no additional cost for any colour leatherette. Black leatherette is the most popular choice. 














Leather
Leather is a $69 upgrade for 8×11″ albums, a $99 upgrade for 11×14″ albums and a $159 upgrade for 12×16″ albums.








Linen
There is no additional cost for any colour linen. Please note that while linen is a nice finish, it does not wear as well as leather or leatherette. 







Frequently Asked Questions
Still have questions? Hopefully this FAQ will help. If your question isn't answered here, please send me an email or give me a call!
What is the "Default" album?
It's likely I showed you what an album looks like at our first meeting, but that was probably a long time ago now so you've probably forgotten. The "default" album is black leatherette with a blank cover. Probably two thirds of people stick with this classic look. The pages are a thick and rigid (not normal paper) and the album is made in a lay-flat style meaning you can have images that span the entire spread.
There are too many options to choose from! Can we meet to discuss our options and look at some samples?
Of course. As part of the album design process I'll meet with you at my home in Lysterfield to show you some album examples and material swatches. If you're happy to do do everything online, that's fine with me too.
How many revisions can I made to my design?
I have no set limit to the number of revisions that can be made to an albums layout. I want you to be happy with how it's laid out! I do ask however that the album be finalised within 3 months of receiving your photos.
How long does it take for the album to arrive?
The delivery time can vary a little depending on a few factors, however most albums are delivered within two weeks.
Why do some album changes cost and others don't?
My pricing is based on the print company I work with. Essentially if a change doesn't cost me anything, I won't charge you anything!
I was hoping to upgrade my album in x way, is that possible?
If you were hoping to change your album in a way not mentioned on this page, it may be possible. Please send me and email to find out if it can be done and what the costs are associated with it. 
 Can I get a mini album for our parents?
If you would like an album for your parents, you can order any of the sizes listed above. If you want something smaller, there are a couple of options available. Please email me for details (please note that albums smaller than those listed above may mean compromises on the layout and size of the photos).
You mentioned something earlier about different printing methods?
Yep. The normal print method for the photos in the album is called "Lustre". This gives great quality prints with vibrant colours. It's what nearly every couple chooses. You can have the album done with metallic printing (which gives a very vibrant image with almost reflective colours) and you can do a more subtle style print with muted colours. It's very difficult to show the differences on screen, so if this is something you're interested in, please let me know and I can give you more detail. Please note that other printing methods may cost more.
How many photos should I include in my favourites list?
If you'd like to ensure the album doesn't look too busy and you're not looking to purchase additional pages for your album, then I've found 50 is a good starting point for 11×14″ albums. 40 works best for the smaller 8×11″ album. Usually this number is reduced once you see the images on the page, but these numbers give a good starting point!